Author Archives: Fifi
20 Aug 2014
When I bought my tickets to New-York, I had set a budget limit, and I finally found a suitable option with Icelandair company. It included a stopover in Reykjavik, Iceland …
It lasted just long enough to change planes (for the flight over). But for the same price you can choose to stay up to 7 nights. Since my trip was already long enough, I had merely one day, on my way back.
Far too little time to really visit Iceland, but enough to fall in love with the island and fulfil some long-time fantasies to boot: to bathe in the Blue Lagoon and witness a geyser in action (if that's your thing, it is visible live here, it erupts more or less every 5 minutes).
If you plan a trip to the US, consider this option. It was the best way to end the trip.
And it gave me many ideas for the next one!
18 Aug 2014
I finally returned from New York! I confess that I had almost forgotten that I had a life here, as well as a blog… I preferred posting on Instagram, it was easier, and, well, you know me, I am not too talkative here (in real life, it's something else …).
I hesitated to write this post, because I'm not the type to make much of a city guide, but as I had a lot of questions about my picks in NY, I thought I would note here (and in bulk) a little of what I told my girlfriends, you never know… you may find it useful.
So, first of all, the real good idea (my good fortune), was to stay longer. I've often been to NY, my visits never exceeded 10 days.
The first time we go to NY, we tend to try to do it all: the Statue of Liberty, the Empire State, the Metropolitan and MoMA, Times Square, 5th Avenue, SoHo … And suddenly, you realize that you see everything briefly, so in the end, it's a bit frustrating. But when you go back, you've already seen the essential sites, so you can take your time, enjoy, and even head out of NY!
This time, I relished my simple routine in the Park Slope neighbourhood in Brooklyn. I enjoyed grocery shopping at Whole Food, choosing the ingredients for picnic before heading to Central Park or Prospect Park. I liked testing all the nail spas in the area (so easy to get pretty hands in NY, there are nail spas on literally every street corner). I loved making French toast for breakfast, savouring them in the backyard sun. I even enjoyed going to the laundromat to wash my clothes. I loved imagining that I lived in the area …
I also loved Rockaways.
In the summer, it's easier to remember that NY is near the seaside, especially when you realize that you can go to the beach by subway. Of course, there is Coney Island, but this year, after enrolling in the San Pellegrino Fruitstock, organized by Le Fooding, I discovered Rockaways. The peninsula was ravaged by hurricane Sandy in 2012, but apart from the promenade along the beach which is still a bit ragged, it's hard to believe any damage had been done at all to this area. The beautiful beach stretches across the horizon (there are only 2 legal surf spots in NY, in Rockaways). The pleasant surprise is that we eat really well there (even outside Fooding events), it's a nice change from the hot dogs at Coney Island. I was going to make a list of places, but it's already here. I also loved the Skytrain ride to get there … You've figured it out by now, Rockaways… I loved it!
I loved the rooftop at the Met.
This wasn't a new discovery on this trip, but I did talk to several New Yorkers who had never been there, so, apparently the place is not so well-known. On the roof of the Metropolitan, there is a terrace with a magnificent view of Manhattan and Central Park. To get there, we need a museum entrance ticket, but if you don't intend to visit the collection, don't feel guilty, just give a simple "donation" of $ 1 instead of the $ 25, as suggested. The best idea is to go when the Met is open until late and enjoy the sunset with a drink.
I loved the Top of the Rock.
On every visit, I just can't resist a good view of Manhattan from above. But this time, to change from the Empire State Building, I went to the top of the tower of the Rockefeller Center for the first time. It's not quite as tall and impressive as the Empire State Building, but the view is absolutely worth it. And I loved the lift with its glass ceiling, giving you the impression that you're shooting upwards 70-stories in a rocket. If you go to MoMA, you can buy your ticket for The Top of the Rock at the same time, it saves a few dollars (and you have a whole year to use it).
I loved the High Line.
Everyone has heard about, it's now a certified « must » as I've mentioned earlier. And deservedly so! Both wild and perfectly maintained, you have the impression of being in the city and at the same time somewhere else altogether… In my dreams, the High Line would stretch across all of Manhattan.
I loved the Pop up pool in Brookyn Bridge Park.
I came across this pool by chance, while walking in Brooklyn Bridge Park. It is a little bit hidden (I wonder if this is to avoid too much attention, because I didn't even have to wait in line). You can swim for 45 minutes before the next person has their turn. But by the time you have your lemonade in hand, your feet in the sand, sitting back in one of the nearby deck chairs, facing the Manhattan skyline, you're soon ready for another 45-minute session. You should bring your own padlock for the lockers, but other than that, it's totally free. Swimming with such a view is priceless!
I also liked the brief excursions to Cape Cod, Nantucket and Long Island… but I think I've gone on about all this quite enough for now!
And I'll be back shortly with another good tip, something that doesn't directly involve New York, but which would be impossible not to share with you…
09 Jul 2014
Wrapped up in all the excitement of heading back to the city I love so much, I almost forgot to tell you about it! So, here I am, in New York… for a month! Yeah! That doesn't mean that my work is on holiday: the future collection for Atelier Brunette has been approved, and my work for Atomic Soda is on its way.
Until I get back, Instagram is where you can find out what I'm up to. See you soon!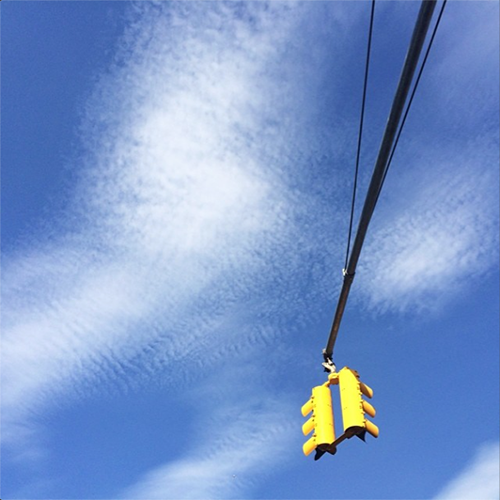 13 Jun 2014
I'm the kind of girl whose mood is directly dependent on sunlight … 
 So I went to get a little sun, down south, and here's the poster that I brought back.
When summer finally arrives, I plan on making the most of it. Enjoy!
 This is the first time I've made a poster as a sequel to the previous one. I like this duo …

11 Jun 2014
You may have already seen some of these here and there, because the new collection entitled "L'envolée" ("Soaring") that I designed for Atelier Brunette already came out a few weeks ago… I was waiting to make something to present the fabric appropriately, but to be honest, I do not have much time to sew. So I'll show you the fabric as I use it in real life: seamless! Here, for example, the fabric "Cachette" ("Stash") is a makeshift tablecloth in the kitchen.
In the bedroom, the "Hirondelles" ("Swallows") fabric is laid on the bed. I could have shown it as a sarong on the beach, or a curtain in the workshop (as I did here with the previous collection)…
But for fabric "Ciel bleu" ("Blue Sky"), I asked Emilie to make a cushion and she even took the initiative to make a tutorial, courageous girl!
Ok, as soon as I have the time, I plan to try sewing together a strapless dress with "Swallows" fabric! And why don't you show me what you can make with my designs?

100% cotton batiste – Width 140 cm – 80g/m2 density – Wash 30-40 ° – Sold by 0.50 meter.