Author Archives: Fifi
30 May 2010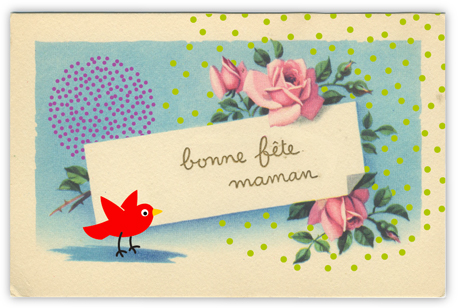 Today (in France) it is Mother's day.
So twice more reasons to be happy!
28 May 2010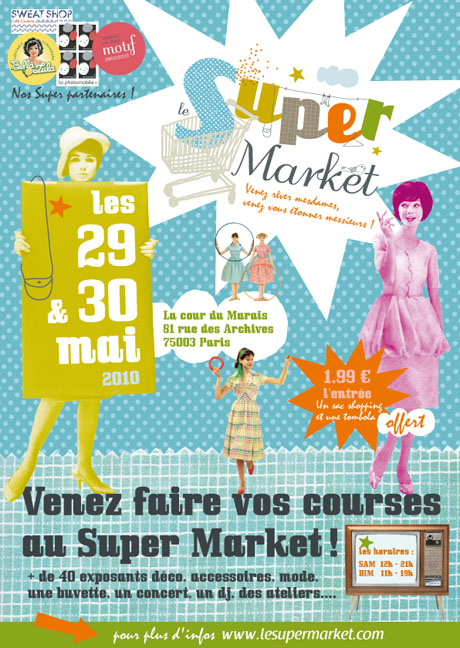 We first talked about it  a year ago, we've been working on it  for over 8 months, and now it's time : tomorrow it's the big day, the 
Super Market
opens its doors!
Seeing how much energy, fun and pleasure we had to organize it, it can only be fantastic. So I am telling you one thing : come, it'll be great !! You have my word! Trust me!
18 May 2010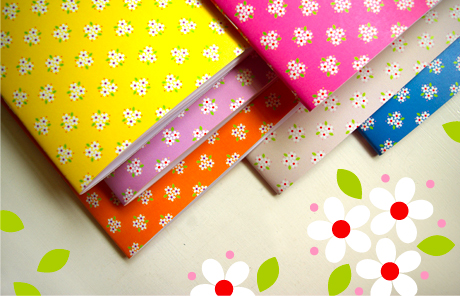 After the 
Jeannette
notebooks , here are the Violette notebooks! Large white sheets to draw, make list or take notes! It will be easy to find how to use it. The only trouble will be to choose your color…
11 May 2010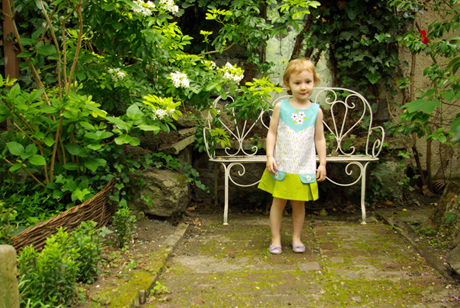 Just a few more adjustments and everything will be perfect. The dress that I was talking about 
here
is about to exist for real. And not only for Susie, who is posing here for you with the first prototype … just to keep you waiting !
Soeur Alma from C'est dimanche designed a very pretty dress, with a vintage feeling and a perfect cut. I couldn't hold myself from adding some flowers and colours (you know me!). Thanks to Corentine from Motif Personnel, the kit (pattern + fabric) will finally become real.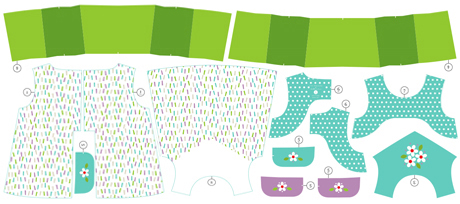 By the way, with Sister Alma we finally decided to do 3 sizes : 2, 4 and 6 years old. Also in 5 differents designs, because it was way too hard to choose only one …
The pattern will be printed directly on the fabric, it's easier this way. But if it's still too complicated, you'll have the possibility to order it already sewed.
We keep you posted as soon as we're ready!
30 Apr 2010
L'année dernière lorsque Anne-Christelle de Lilli Bulle m'a confié la réalisation de sa vitrine sur le thème du printemps, j'ai eu envie de l'envahir de mes p'tits oiseaux.
Alors je suis allée voir un monsieur qui tient une imprimerie "à l'ancienne" avec des machines belles comme des locomotives à vapeur et des pots de confiture remplis de couleurs si fraîches qu'on les mangerait bien.
Mes oiseaux sont sortis de l'imprimerie avec 6 jolies couleurs de plumage et ont volé tout droit vers Lilli Bulle :
Mais depuis tout ce temps, pas moyen de les prendre en photo ! Ils bougent tout le temps !!! Normal pour des oiseaux, me direz-vous…
C'est pour ça que vous ne les avez pas encore vu par ici. Mais comme depuis un an, ils plaisent beaucoup et avant qu'ils ne soient tous envolés, je me décide à faire un billet à leur sujet…
22 Apr 2010
My last holidays seem to be pretty far away today, with so many great projects on their way, and despite being tired, none are planed yet…
So I am staying in Paris, and I am traveling throught those beautiful posters from  The Heads of State and Bianca Gomez. They are from our days, but they remind me the posters from the old days, like the ones of Air France that were in my grand-father's study …
What about you? What is your dream destination?