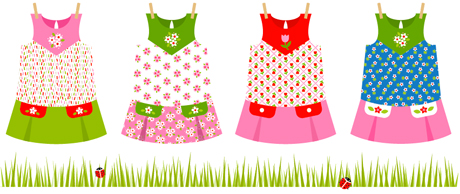 Not so long ago I was writing about my wish to make fabrics, do you remember ? Well a short time after this post, I've had a very nice proposition from "C'est dimanche" which I couldn't decline. It was about a four-hand work : to create an exclusive set, with both her sewing pattern and my fabric design.
We've agreed on a summer dress pattern for girls from 1 to 4 years old.
Many drawings were made but we ended up with just 4. With a lot of pink of course, because I asked Susie what she would wear.
But you… what do you think about it ? Which one would you pick?
If you want to have a closer look, click below.