I've always loved children's books. When I was a child of course, but even now that I'm not a child anymore.
I spend lots of time in the librairies youth bookcases. I try to convaince me that it's for my daugther, but only a fool would believe that…
Therefore I am a huge fan of Les Minots bookstore ! I was thrilled when they asked me to install a temporary window (it will be removed on October the 15th). Here is a picture to catch a glimpse: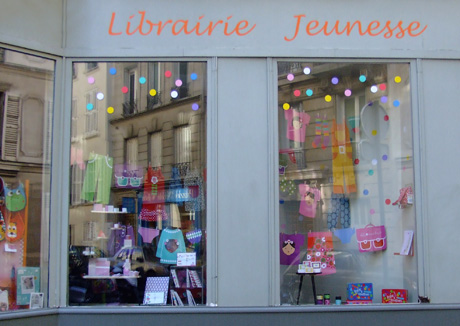 Taking such a picture is not the easiest thing!
So you'd better go to Les minots. Linda or Virginie will be happy to advise you on many great books, and if you come on Wednesday, you'll see me running a workgroup for kids (beginning at age 5). We will make colorful garlands!
Librairie Les minots
161, rue du Château Paris 14ème
The workgroup will take place on Wednesday,  September the 16th, starting at 3.30 pm and will last about 1 hour.
To register call directly on 01 43 20 95 85
Contribution fee 12 euros