Rubrique :
surprises to see
23 Nov 2010
Sorry, this entry is only available in French.
24 Jun 2010
It was one of my dreams when I was a little girl (yes, I know, I had a lot of dreams !). It finally came true one year ago.
I didn't post it here because I wanted Marie Claire Idées to be the first to feature it. Now it is, so I am happy to show you this little house which is now Susie's dream. Even if she now dreams that one day, there will be a kitchen, a bed for her dolls and much more…
If you want a house like this one, the tutorial  is in Marie Claire Idées n°79 . Paint from Farrow and Ball and Ressources. Thank you Camille !
01 Jun 2010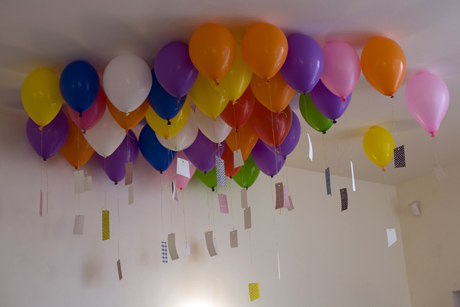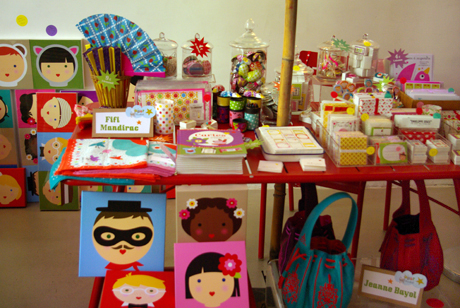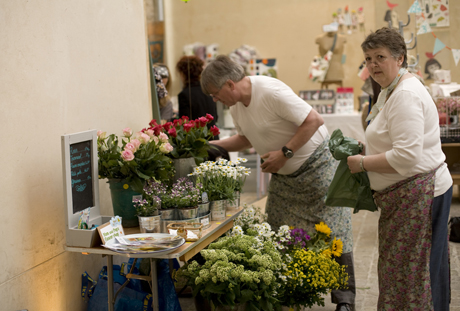 A little glimpse of the Super Market! We had a great time!
Many thanks to everyone who talked about it, who participated, who came by, and of course a huge THANKS to my friends the Super Girls, without you this crazy project would have never exist!
Photos Laetitia Duarte, Mili, et Fifi.
28 May 2010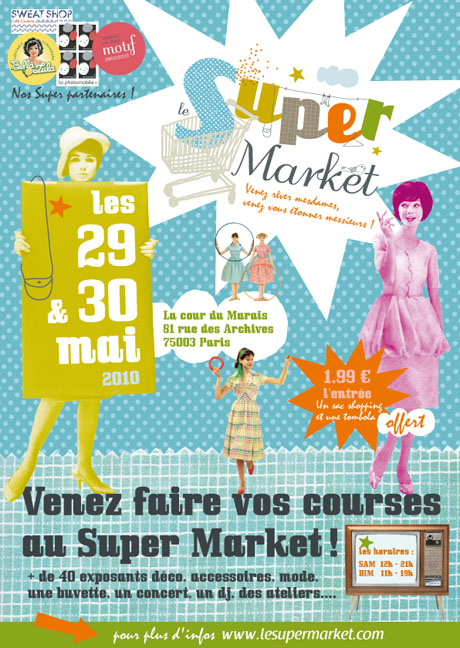 We first talked about it  a year ago, we've been working on it  for over 8 months, and now it's time : tomorrow it's the big day, the 
Super Market
opens its doors!
Seeing how much energy, fun and pleasure we had to organize it, it can only be fantastic. So I am telling you one thing : come, it'll be great !! You have my word! Trust me!
11 May 2010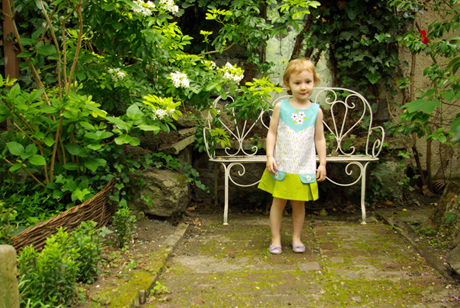 Just a few more adjustments and everything will be perfect. The dress that I was talking about 
here
is about to exist for real. And not only for Susie, who is posing here for you with the first prototype … just to keep you waiting !
Soeur Alma from C'est dimanche designed a very pretty dress, with a vintage feeling and a perfect cut. I couldn't hold myself from adding some flowers and colours (you know me!). Thanks to Corentine from Motif Personnel, the kit (pattern + fabric) will finally become real.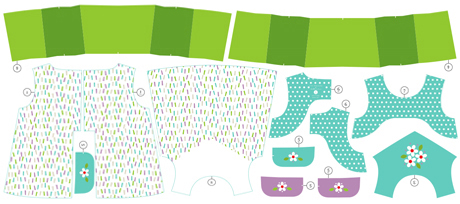 By the way, with Sister Alma we finally decided to do 3 sizes : 2, 4 and 6 years old. Also in 5 differents designs, because it was way too hard to choose only one …
The pattern will be printed directly on the fabric, it's easier this way. But if it's still too complicated, you'll have the possibility to order it already sewed.
We keep you posted as soon as we're ready!