C'est le blog de Fifi Mandirac ! Et Fifi, c'est qui ?
C'est moi :
It's Fifi Mandirac's blog! But who's Fifi?
It's me: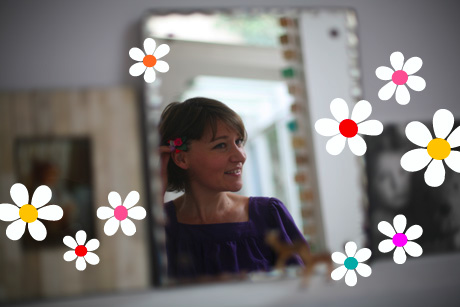 J'ai d'abord été une petite fille folle de dessins, de cabanes et de déguisements.
Et je n'ai pas beaucoup changé : maintenant, je suis une grande fille, je suis graphiste, ma cabane s'est transformée en une maison que je m'amuse à décorer suivant mes humeurs et ma malle à déguisement est devenue une penderie pleine à craquer d'habits de toutes les couleurs…
First, I was a little girl who loved drawing, Wendy houses and costumes. And I haven't changed a lot: now, I'm a big girl, I'm a graphic designer, my Wendy house changed into a house which I love to decorate down to my whim and my costume bag became a wardrobe full of clothes in every color…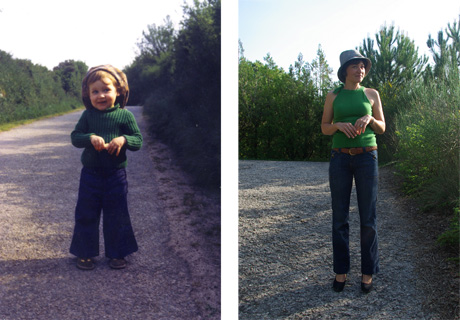 Encouragée par de nombreuses commandes de faire-part, il y a 8 ans j'ai décidé de créer ma petite entreprise. Depuis, je crée beaucoup d'autres petites choses (de la papeterie, des éventails, des petites boîtes par exemple) qui ont la couleur et les motifs pour points commun. Tout ça est visible sur mon site, ici.

En novembre 2007, j'ai décidé de faire un blog. Pourquoi un blog alors que j'ai déjà un site ?
Parce que justement c'est un site ! Et même si je l'aime beaucoup (merci à mon gentil mari qui l'a fait !), un blog c'est quand même plus pratique au quotidien pour  partager les jolies surprises que la vie de tous les jours nous réserve…
Et puis j'espère qu'avec un blog, je pourrais plus facilement avoir des échanges avec ceux qui aiment ce que je fais et qui, certainement, aiment les mêmes choses que moi.
C'est aussi pour ça que j'aime bien qu'on me laisse des commentaires… Alors, si vous aimez, si vous n'aimez pas, si vous avez des choses à partager ou à dire, ne soyez pas timides !
Encouraged by numerous orders for announcement cards, 8 years ago I decided to create my own company. Since then, I have created a lot of other little things (stationery, fans and little boxes for example) which have in common color and pattern. All that's on my website right here. 
In November 2007 I decided to create a blog. But why a blog while I already have a website? Precisely because it's a website! And even if I adore it (thanks to my great husband who arranged it!), a blog is still more useful in everyday life for sharing the good surprises life is so full of…
And I also hope, via the blog, to exchange a lot more easily with people who love what I do and who certainly love the same things as I do.
For this reason I really like to get your comments… So, if you like, if you don't like, if you have things to share or to say, go ahead!
Photo du haut : Laetitia Duarte