Tag Archives:
atelier
29 January 2015
Sorry, this entry is only available in French.
12 February 2014
"Les Journaliers" website is officially launched, as of today. I'd been looking for just the right words to present this project, but I don't think I could describe it any better than they do:
"Les Journaliers" are interested in the way artists and designers work, from day to day… their doubts, the process, their inspiration. Writing, creating illustrations, taking photos, composing… Above and beyond inspiration, bringing creative projects to their final stages often requires isolation, perseverance and discipline. 'Les Journaliers' highlight the everyday aspects of this creative process as well as the professional dimension of these activities, aspects which we don't hear about often enough. To take inspiration from others daily habits, selecting ideas and methods that speak to us, is to find the energy and motivation to keep doing what we do every day. To learn about how reputable professionals got where they are is to realize that there are as many artistic paths as there are individuals… and this may help us accept the fact that our own paths are often crooked, full of detours and dead-ends".
Here it is…
I'm mentioning it here because I find the idea really good… though I'm forced to admit I'm proud to be part of this project myself, as 'Les Journaliers' chose me as one of their first 'subjects'. We spent some time together in my workshop and the girls (Yes, 'Les Journaliers' are all girls) asked me a great number of questions, some of which I'd never even asked myself. The words and images are available in this interview, after which I will have (practically) no more secrets left for you.
Photo © Rodolphe Bricard for Les Journaliers.
16 May 2013
Remember my urge to change ? It struck again… This time it hit the studio's kitchen! This (small) kitchen was arrange a little bit too quickly when we moved in 7 years ago (there was so muuuuch to do in the whole house…). But last week-end, it became painfully obvious, it can not stay like this anymore, I had to do something!
As I wanted to have finished by Monday, I did not start in heavy work.
I am pretty happy with the result, considering how easy it was to do it. Problem is, now I want to change everything else in the studio. If it pleases you to talk a little more about interior deco here, I'll show you …
Want to see what it looked like before ? Read after the jump.
10 September 2009

I've always loved children's books. When I was a child of course, but even now that I'm not a child anymore.
I spend lots of time in the librairies youth bookcases. I try to convaince me that it's for my daugther, but only a fool would believe that…
Therefore I am a huge fan of Les Minots bookstore ! I was thrilled when they asked me to install a temporary window (it will be removed on October the 15th). Here is a picture to catch a glimpse: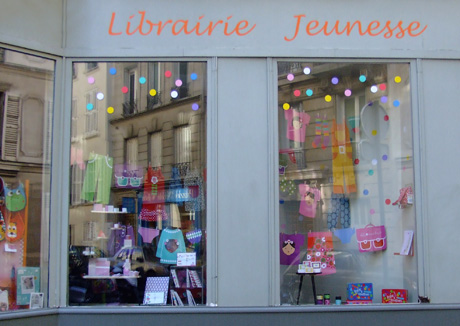 Taking such a picture is not the easiest thing!
So you'd better go to Les minots. Linda or Virginie will be happy to advise you on many great books, and if you come on Wednesday, you'll see me running a workgroup for kids (beginning at age 5). We will make colorful garlands!
Librairie Les minots
161, rue du Château Paris 14ème
The workgroup will take place on Wednesday,  September the 16th, starting at 3.30 pm and will last about 1 hour.
To register call directly on 01 43 20 95 85
Contribution fee 12 euros
16 May 2009
This weekend, it's open house in the artists' studios in Belleville.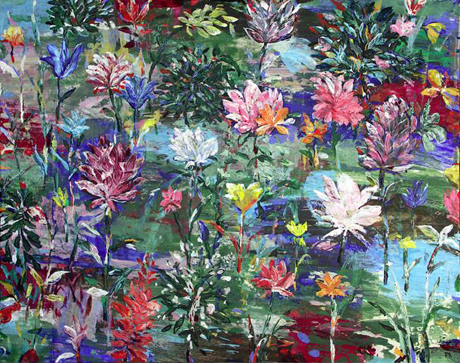 Anyplace in streets, courts and backyards, more than 200 artists welcome you with open arms.
This is the right time for a nice walk in the heart of this Parisian quarter which is so full of surprises…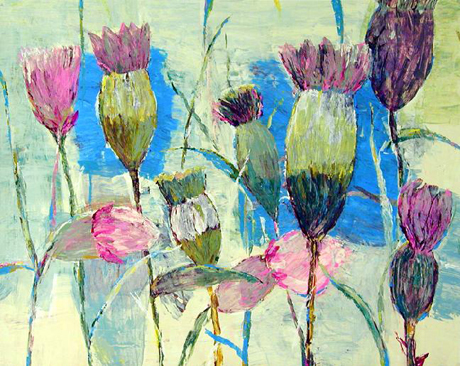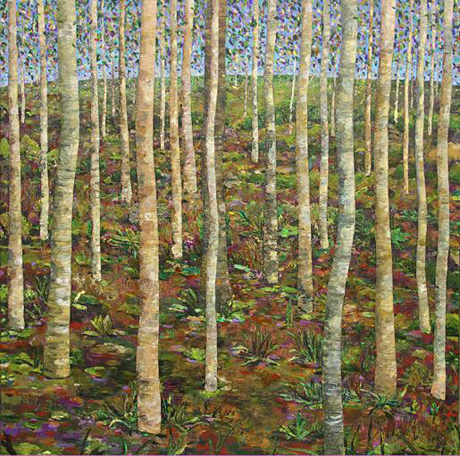 The paintings above are by Philippe Barnier. An artist I like a lot, and not only because he's my cousin!