Tag Archives:
livre
9 January 2014
Susie received this book for Christmas. Every time I pick it up, I discover new details that catch my eye…I'm already thinking of buying a second copy to frame the pages!
"Kongjwi, l'autre Cendrillon" by Lim Yeong-hee, illustrated by Marie Caillou. Editions Père Castor.
Remember to get it at one your local booksellers, rather than here…
7 October 2010
I am proud to present our (Olivia and me) new baby!
Today is launched "L'album des trésors de bébé". A project I was eager to talk about last winter…
Now, I am happy I can tell you and show you more!
This is a book to help you keeping your baby's early years memories. Because it goes so fast! And also because it is so sweet to thinking it back!
In addition to the book you will have to fill (with text and many photos), there are small pockets and drawers for everything that does not fit in a book (the tag from the hospital, a pair of tiny booties, the first baby tooth …). There is also a measuring stick which is nice not to forget how quickly a baby grows.
From start to end, this project was happiness thanks to Olivia Toja who wrote texts and Aurélie from Editions First who orchestrated everything.
It was moving to do it thinking about the baby who was growing up in my belly in the same time…
I started to fill it for him and I hope he'll be happy to rediscover it when it will be his time to become a father, like I was when my mother gave me the one she did, as I was about to became a new m
om …
16 March 2010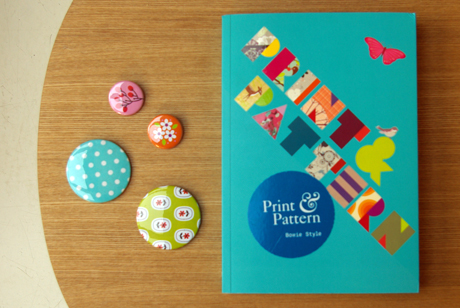 If you're a graphic designer, if you like patterns or if once in a while you visit the "Les blogs que je lis" section, you certainly know Print & Pattern, Bowie Style's famous blog. As you may guess from its name, it's all about prints… and… patterns, my favorites!!!
I am very proud to have been already mentioned several times. And even more proud when she asked me if I would accept to be presented with other designers in her coming book.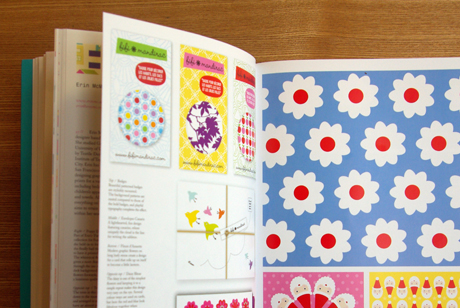 It was almost 2 years ago (such a project takes time!) and this morning I had the good surprise to see that the book had become real. With 2 double pages dedicated to my work ! Proud as a peacock, I'm telling you!
"Print & Pattern" by Bowie Style published by Laurence King.
Disponible en bookstores or here.