Tag Archives:
tuto
27 June 2013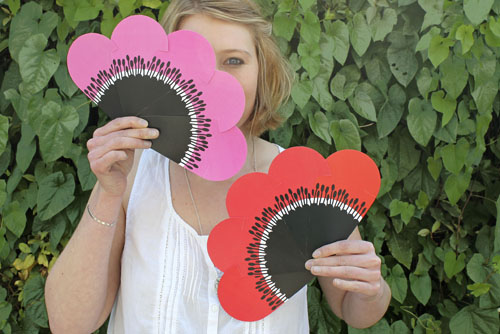 I can't get enough flowers! Those ones are also fans! When we first had this idea, we thought they would be useful during the hot summer. But it still not there! I can hardly believe we are at the end of June… So let's pretend they will   blow the clouds away!
Justine who ends her internship with us tomorrow, did a tuto . You will have something to do during rainy days, while waiting for true summer…
Thank you Justine !
24 May 2012
Sorry, this entry is only available in French.
1 April 2012
Sorry, this entry is only available in French.
29 November 2011
At Créations & Savoir-faire Fair, people was gathering each time Kristina was teaching how to do these pretty stars. I know that many of you already made your ones at home after the fair, but I am prettu sure that you will be happy to have a tutorial, right?
Here it is ! It is very easy to make, all you need is 4 sheets of origami paper. You don't even need glue !
If you enjoy Kristina's tutorials, and since it's time to start thinking about Christmas gifts, you might want to offer her book: Déco de papier published by Éditions Tana. It's awesome!
17 January 2011
Don't you think that putting things into small boxes makes them more precious?
These ones are made with my new papers, thanks to a new origami lesson from Kristina whom I guess you remember…
Here is the tuto, and papers are right here:
18 sheets. Size 12 x 12 cm or 15 x 15 cm. Shipping fee included.